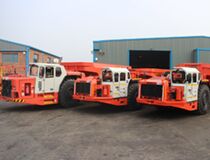 QME
QME was founded in 1985 by managing director Peter McParland, following a long family tradition in mining.
Peter McParland is also a director of Minco Plc a public exploration and development company with ongoing exploration projects in North America and Europe. He is also president and CEO of United Mining Rentals Ltd. which provides Sandvik & Getman underground mining and tunnelling equipment on a rental basis worldwide.
QME Mining & Tunnelling Division
QME Mining Division undertakes contract mining projects in Ireland and abroad. The mining division employs a team of highly experienced operations Managers, underground supervisors, miners, fitters and electricians. QME has carried out large and small scale underground development contracts since 2009.
Current and past clients include the following:

New Boliden Tara Mines: 2009 – Present, in excess of 14 kilometres of Development Mining. Installation of underground services. Dedicated Ore Mucking & Trucking contract. Ore management on surface and underground. Complete shotcreting process from manufacture to delivery and application.
Saint Gobian Gyproc Drummond Mine, Monaghan 2014 - Present, various ground support projects.
Dalradian Gold Limited Curraghinalt Project, Omagh, Northern Ireland 2014 - Present Underground Bulk Sample Development Project.
Lafarge Holcim, Glensanda Super Quarry, Oban, Scotland. Feb 2013 to July 2014. Underground Extension Tunnels, Chamber and Raise Development.


Contacts
7 years at Forkliftonline
The phone numbers have been checked
Ireland, Navan, Co. Meath, Coolfore Road, Ardbraccan
Advertisements QME
Year
Mileage
5000 m/h
Power
Other underground equipment
Year
11/2007
Mileage
2500 m/h
Power
Year
2017
Mileage
1320 m/h
Power
Year
2007
Mileage
1 m/h
Power
Underground mining loader
Other underground equipment
Year
2011
Mileage
3600 m/h
Power
Year
2017
Mileage
13800 m/h
Power