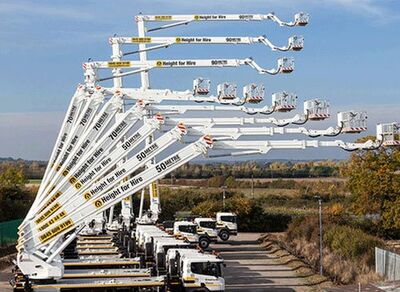 Height for Hire Ltd.
Our success is a result of our comprehensive business model. We buy top quality new equipment so that our rental customers can hire the best the access industry has to offer. However, we also sell directly from our fleet and replenish our stock with newer models, which means our machines never age beyond a 48-month cycle.

HOW WE WORK

New modern fleet
Up-to-date products
Lower maintenance costs
Better service
Happy customer

Contacts
6 years at Forkliftonline
The phone numbers have been checked
The address has been checked
Ireland, Co Meath, Ballybin Road, Ashbourne Business Centre
Advertisements Height for Hire Ltd.
Year
2012
Mileage
317755 km
Power
United Kingdom, Glasgow , Uk
Year
2016
Mileage
1100 m/h
Power
Ireland, Ashbourne, Meath
Year
2014
Mileage
157492 km
Power
Year
2015
Mileage
2100 m/h
Power
Year
2016
Mileage
13000 km
Power
Ireland, Ashbourne, Meath
Year
2012
Mileage
4300 m/h
Power
Year
2018
Mileage
55353 km
Power
United Kingdom, Manchester, Greater Manchester
Year
2018
Mileage
85000 km
Power
United Kingdom, Manchester, Greater Manchester
Year
2011
Mileage
750 m/h
Power
Year
2020
Mileage
17 m/h
Power
Year
2013
Mileage
1000 m/h
Power
Year
2006
Mileage
700 m/h
Power
Year
2006
Mileage
600 m/h
Power
Year
2008
Mileage
500 m/h
Power